Dr. Ashish Oommen graduated in 2012 from the University of Manitoba with a Doctor of Dental Medicine degree. Dr. Oommen is a General Dentist and is excited to have joined Sandstone Dental. He is looking forward to meeting new patients and serving the communities of NW Calgary.
Dr. Oommen is extremely passionate about dentistry and his first priority is always the patient's well-being. He especially enjoys working with children and tries his best to make sure they have a fun and positive experience. He also trained to offer dental sedation options to help anxious and nervous patient relax during their dental treatment.
Dr. Oommen has volunteered with "Kindness in Action" in Ecuador and "Dentistry from The Heart" in northern Alberta and is looking forward to volunteering with similar organizations in Calgary and continuing to provide dentistry to those most in need.
In his spare time, Ashish enjoy bicycling on the trails in Calgary and Banff. He is also big foodie and love trying all the amazing restaurants in Calgary.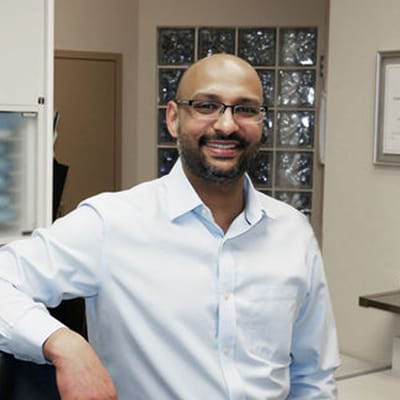 Our Address
66 Sandarac Dr NW #220
Calgary, AB T3K 4L2
Call us today!
403-275-3132
New Patients
For new patients looking to save time on their first visit, please print out, fill out and bring in the Patient Information and Health History Questionnaire. 

Patient Information and Health History